Bitcoin Price Plummets After Bitmex Starts BTC Double Spend Rumor, Grayscale Buys the Dip
The Bitcoin price plummeted after BitMex Research incorrectly identified a double spend of around $21 in BTC. The BTC price fell to a low of $28,953.37 and Grayscale Investment bought the dip to the tune of $1.2 billion.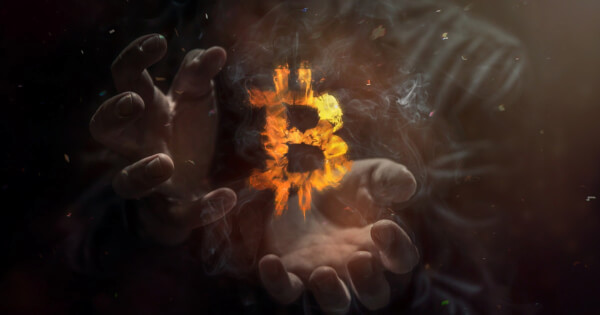 Popular crypto analyst Lark Davis, known as TheCryptoLark, along with a slew of other analyst have been spreading the word that no double spend has in fact taken place.
Davis tweeted while sharing evidence that no BTC double-spend occurred:
"DO NOT BELIEVE THE MEDIA FUD!!! #bitcoin This has been debunked many times today on Twitter. Will the media run a retraction? No."
Davis also took issue with Bitmex's tactics, calling them suspicious and a desperate attempt for more business. He added:
"I wonder how many millions Bitmex made by issuing out that report that a double-spend happened on #bitcoin? With their falling popularity seems they need to resort to more extreme tactics to make money."
Along with the plunge in Bitcoin price, the rest of the crypto market was in a downward trend this morning. Chief Technology Officer of Bitfinex, Paolo Ardoino confirmed to Blockchain.News in a note that no double-spending has taken place.
Ardoino said:
"Cryptocurrencies seem to have retreated today amid unsubstantiated speculation that a 'double spend' had occurred on the Bitcoin blockchain. In fact, what happened is that two blocks were mined simultaneously. As a consequence, there was a chain reorganization, which did not result in double-spending."
The Bitfinex CTO also warned Bitcoin detractors to ignore the pioneer cryptocurrency at their own peril. He added:
"Those looking with glee at the sea of red across cryptocurrency markets today will come to realise to their peril that a long-term bet against bitcoin will be a losing one."
Institutional-grade investment giant Grayscale did not ignore the BTC price and dipped and bought up a further $1.2 Billion dollars worth as Bitcoin sat below $30,000. Davis further mocked the double-spend rumor and the supposed collapse of Bitcoin on Twitter saying:
"🤣🤣🤣🤣🤣🤣🤣🤣🤣🤣🤣🤣 Grayscale bought 1.2 billion worth of #bitcoin on this dip!!! Bullish AF!!!"
The Bitcoin price has since risen back above the $30,000 support and is BTC is trading at $31,286.67 at the time of writing.
Image source: Shutterstock
How To Buy Bitcoin and Crypto With Paypal in 2021
**声明:本文为"Blockchain.News中文网"原创稿件,版权属Blockchain News所有,转载须注明
"稿件来源:https://Blockchain.News",违者将依法追究责任。



阅读更多