MicroStrategy Scoops Up Extra 229 BTC Worth $10M
MicroStrategy Incorporated, a Nasdaq-listed business intelligence and software firm, topped up its Bitcoin (BTC) accumulation with an additional 229 Bitcoin (BTC) purchase in cash. The latest purchase, worth as much as $10 million, came few days after the company acquired 271 units of the cryptocurrency, establishing its stance as a true Bitcoin investor.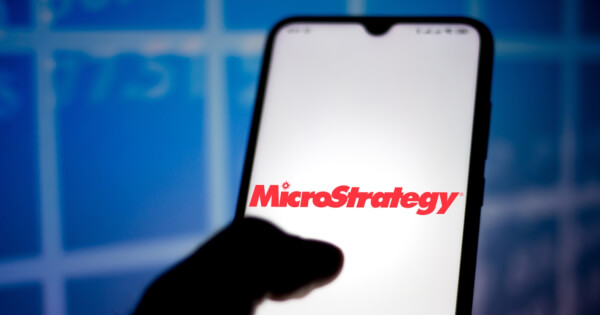 As revealed by Michael Saylor, the company's Chief Executive Officer, the latest purchase came at approximately an average price of $43,663, as the company took advantage of the latest correction and adjustment in the price of the cryptocurrency and the market at large.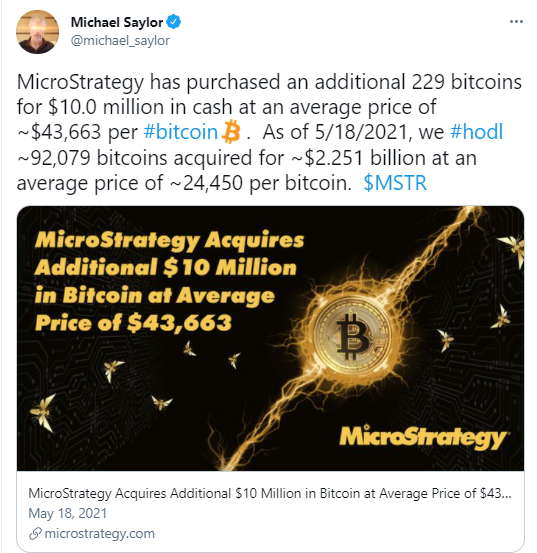 According to the updated post on Twitter, as seen above, the company's total Bitcoin holdings now sits at 92,079 units, purchased at an average price of $24,450, and a total sum of $2.251 billion. Effectively, the Virginia-based firm now ranks as the publicly listed institution with the largest number of Bitcoin sitting on its balance sheet.
While Bitcoin Price Corrected, MicroStrategy Saw an Opportunity
Bitcoin has passed through different turmoils over the past few weeks, beginning with the flooding in Xinjiang China, a disaster that directly halted mining activities and caused a plunge in the Bitcoin hashrate, sending the price tumbling down. While Bitcoin is striving to regain its balance after that, Tesla boss, Elon Musk announced that the company will stop accepting Bitcoin payments due to the cryptocurrency's high energy demand.
These events and other fundamental upsets pushed the coin to trade from a high of $57,939.36 low of $42,207.29, as market bears rushed to sell off. While the FUD spread by Elon Musk got reverberated across the market, Michael Saylor believes that is an entry point to load up more of the premier digital currency in line with the company's Treasury Reserve Allocation policy.
Per the current price of the cryptocurrency pegged at $42,911.19 at the time of writing, the total BTC holdings by the MicroStrategy are worth over $3.95 billion, a good profit margin for the firm.
Image source: Shutterstock
MicroStrategy Acquires an Additional 271 Bitcoins for $15 Million
**声明:本文为"Blockchain.News中文网"原创稿件,版权属Blockchain News所有,转载须注明
"稿件来源:https://Blockchain.News",违者将依法追究责任。



阅读更多