How To Start Trading Cryptocurrency?
The cryptocurrency market is full of pitfalls. It's possible to lose money by storing Bitcoin, buying and selling it, and making transactions on and off the exchange. How to get acquainted with this new type of assets, how to avoid losses, and develop your trading skills
Trading and Investing
It is better to start with the world of cryptocurrencies by choosing a strategy. The main ones are investing or trading. The first involves the purchase of an asset and long-term storage. The second is short-term speculation. The trader makes a lot of trades with cryptocurrency, trying to make a profit in a short period of time.
Depending on the chosen strategy, cryptocurrency storage methods differ as well. For investments, cold wallets are better suited. This way you can keep cryptocurrency on your computer or a flash drive. Plus - security, no one can steal cryptocurrency without direct access to it.
Minus - illiquidity. If suddenly, the rate of the coin starts to fall sharply and the user wants to sell it, it will take time to transfer the assets to the exchange. In addition to that, it is possible to specify the wrong address when sending the funds, which will lead to a complete loss without the recovery possibility.
Cryptocurrency Trading
Cryptocurrency trading is a risky business. The price of cryptocurrencies is volatile and can fluctuate by 10-20% per day, sometimes by 50% or more. For inexperienced users that can give an impression that trading can bring in huge profits on a daily basis. However, reality shows the opposite, as a rule, over 90% of newbies lose most of their capital in a short-term perspective and leave the market.
That is why it is necessary to refer to theory. Such as reading the scientific literature on trading, listening to lectures on this topic, attending appropriate courses, getting acquainted with technical and fundamental analysis, or follow cryptocurrency blogs, for example, https://stormgain.com/crypto-trading. All this will not only help you to see the rise and fall of asset prices on charts, but also try to predict them.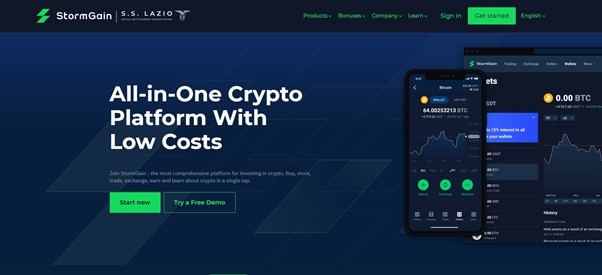 Create a free demo account on a StormGain.

Studying the literature and experience of other traders and investors it is also possible to master different trading strategies. One of them is averaging. It involves dividing your capital into several parts and investing small amounts of money in an asset. This method will help you find the best point to buy an asset.
For beginners, it's better to start trading cryptocurrency with a demo account. Some exchanges allow users to create an account with a virtual balance. This will allow you to understand the market and the exchange's structure, as well as practice.
Then after that, you can deposit a small amount to the exchange. Losses are inevitable, but it is an obligatory stage of becoming a trader. A beginner must feel what it is like to lose money and hold a losing position. This will help a trader to understand his psychology: whether he is able to tolerate losses and not to make panic, erroneous deals, to control himself and make decisions with a cool head. It is better to gain this skill in advance, without paying a lot of money for such an experience.
Image source: StormGain
Disclaimer:This is a sponsored article, the views and opinions expressed in this article are those of the contributor and Blockchain.News does not endorse and is not responsible or liable for any content, accuracy, quality, advertising, products or other materials on this page. Readers should conduct their own research before taking any actions related to this company. Blockchain.News is not responsible, directly, or indirectly, for any damage or loss caused or alleged to be caused by or in connection with the use of or reliance on any content, goods or services mentioned in this article.


**声明:本文为"Blockchain.News中文网"原创稿件,版权属Blockchain News所有,转载须注明
"稿件来源:https://Blockchain.News",违者将依法追究责任。



阅读更多