Former Fed Chair Janet Yellen Confirmed in Senate as new US Treasury Secretary
After being nominated by President Joe Biden to serve in his administration, the United States Senate has now confirmed former Federal Reserve Chair Janet Yellen to serve as Treasury Security.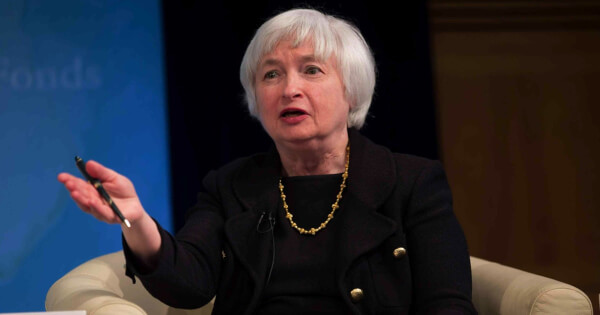 Yellen's role as US Treasury Secretary was confirmed by the Senate in a landslide vote of 84-15 in favor of the former Fed Chair—days after she won unanimous backing from both Democrats and Republicans on the Senate Finance Committee.
Yellen's Approach to Cryptocurrency
Yellen's nomination initially caused alarm in the cryptocurrency community when she said that the US needs to examine how it can curtail the use of crypto for illicit financing which she explained was its main use during her Senate confirmation hearing last week. She made the comments in response to a question from Sen. Maggie Hassan (D-NH) who asked about the potential for cryptocurrency to be leveraged in financing criminal and terrorist activities.
While it appeared that Yellen was destined to be another old-world cryptocurrency opponent, a written statement published on the Senate Finance Committee website further indicated that the incoming Secretary of the Treasure may have a more positive view on the potential for crypto and digital assets to reshape the United States financial system for the better.
In her statement, Yellen did again state the need for the US to confront the use of illicit activities leveraging crypto, this time she added that she also plans to encourage legitimate leveraging of digital assets.
The former Fed Chair wrote:
"I think it important we consider the benefits of cryptocurrencies and other digital assets, and the potential they have to improve the efficiency of the financial system."
Yellen added:
"I think we need to look closely at how to encourage their use for legitimate activities while curtailing their use for malign and illegal activities. If confirmed, I intend to work closely with the Federal Reserve Board and the other federal banking and securities regulators on how to implement an effective regulatory framework for these and other fintech innovations."
The overall outlook of Yellen appears quite bullish for cryptocurrency, as a regulatory framework for Bitcoin and digital assets would give much needed concrete legitimacy to the nascent crypto sector.
Image source: Shutterstock
Law Enforcement Officials Divided on Ripple XRP Outcome as SEC Lawsuit Court Date Looms
**声明:本文为"Blockchain.News中文网"原创稿件,版权属Blockchain News所有,转载须注明
"稿件来源:https://Blockchain.News",违者将依法追究责任。



阅读更多