Elon Musk: Lightning Network Needed to Fix Scalability Problem in Bitcoin Network
Elon Musk, the founder and CEO of Tesla Inc., sparked on Twitter Saturday, suggesting that the layer-2 payments Lightning Network are required for now to scale Bitcoin (BTC) transaction. The billionaire said that the Bitcoin network could meet increasing demand if its users adopted the Lightning Network, a payment that makes Bitcoins transactions cheaper and faster.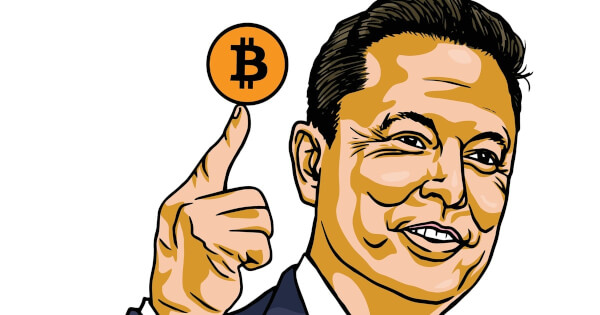 "Bitcoin hashing (aka mining) energy usage is starting to exceed that of medium-sized countries. Almost impossible for small hashers to succeed without those massive economies of scale. For now, Lightning is needed," Musk said on Twitter.
Lightning is a type of software that processes BTC transactions out of the Bitcoin blockchain to lighten the loading on the network. In other words, Lightning enables cheaper and faster transactions by enabling user-generated channels for receiving and sending payments.
Musk, therefore, suggests that lightning would be necessary to offer the required bandwidth.
"Layer count depends on projected bandwidth & compute, both rising rapidly, which means single layer network [e.g. Bitcoin alone] can carry all human transactions in future imo," Musk said.
Without this Lightning, currently, it costs an average fee of $13 and takes 14 minutes to move funds across the Bitcoin network.
The Lightning could help to move funds at the cost of about one satoshi (0.00037636 USD), and transactions are almost instant.
However, critics claim that the Lightning Network sacrifices decentralization as some computational work out of the Bitcoin blockchain.
Musk termed achieving truly decentralized finance – to empower people – as a noble and vital goal, responding to BTC Session, a Twitter crypto advocate, who asked whether Tesla CEO had put into consideration whether lightning sacrificed on decentralization.
Lightning Labs Inc., which based in Silicon Valley, California, began developing the Lightning Network in 2016 and launched a protocol in beta in 2018. Square and Twitter CEO Jack Dorsey is among investors in Lighting Labs.
Green Bitcoin Alternative
A few days ago, Musk commented on BTC due to the crypto's environmental impact and reliance on Chinese miners. The Tesla CEO has recently talked about Bitcoin's energy consumption on Twitter, especially a shock announcement that Tesla stopped accepting Bitcoin payments for its motor vehicle sales.
Musk is looking at cryptocurrencies' that uses less than 1% of Bitcoin's energy usage. Dogecoin (DOGE) developers revealed that the Tesla CEO had offered funds to improve the network, which consumes a fraction of Bitcoin's energy consumption.
Meanwhile, Musk suggested ten major cryptocurrency mining firms that should post audits of the amount of renewable energy used in their operations as a way to address the energy consumption matter.
Image source: Shutterstock
Elon Musk's Concerns Over Bitcoin's Energy Consumption Are Misguided, Says Ark Invest
**声明:本文为"Blockchain.News中文网"原创稿件,版权属Blockchain News所有,转载须注明
"稿件来源:https://Blockchain.News",违者将依法追究责任。



---

阅读更多