Cryptocurrency Hackers Target Trump Presidential Campaign Website with Monero Scam Addresses
US President Donald Trump's 2020 presidential campaign website was briefly compromised yesterday in an attempt by hackers to gain cryptocurrency funds.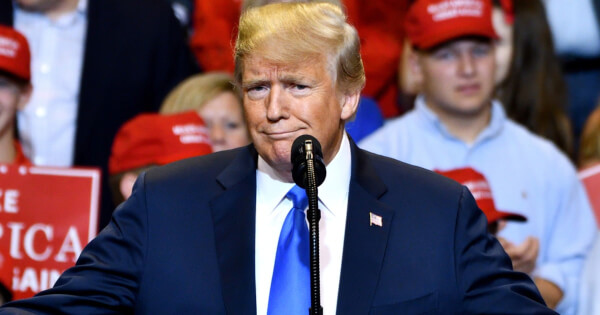 Investigators clamp down on presidential hack
On the presidential campaign website, it read:
"This site was seized. The world has had enough of the fake news spreaded [sic] daily by president donald j. trump."
Within the announcement, hackers linked two Monero cryptocurrency wallet addresses, both serving different purposes. According to Forbes, one demanded cryptocurrency assets to allegedly unlock sensitive information pertaining to the US president, while the other wallet was for platform users who would want confidential info regarding Trump hidden.
Shortly after the breach, US regulators caught on and took down the scam announcement. According to state officials, no sensitive information has been detected to be stolen so far. Investigators are still unsure of how hackers were able to access the presidential campaign website, but investigations are currently still being carried out. The identities of the hackers have not yet been revealed, and the reason behind the cryptocurrency scam is still unknown.
Source: Twitter
Investigators are speculating on whether the cryptocurrency hack was an attempt to interfere with the upcoming US presidential elections, to be held on November 3. Another explanation may simply be that hackers were looking to benefit financially from the scam. The only definitive conclusion investigators seem to have reached is that the culprits are not English natives, as the message was riddled with grammatical errors.
Speaking about the security breach, Trump's communication director Tim Murtaugh said:
"The Trump campaign website was defaced, and we are working with law enforcement authorities to investigate the source of the attack. There was no exposure to sensitive data because none of it is actually stored on the site."
History in the making - More than 70 million US voters
The security breach comes as the US presidential election is nearing and tensions between Joe Biden and Donald Trump have been escalating. According to a Reuters report, the number of American voters has surpassed the recorded amount in 2016 by more than 50%, as more than 70 million US citizens have cast their ballots in light of this year's elections. A reason behind this may be due to the coronavirus pandemic.
US President Donald Trump has been critical of the system of mail-in votes on more than one occasion. He said:
"It would be very, very proper and very nice if a winner were declared on Nov. 3, instead of counting ballots for two weeks, which is totally inappropriate and I don't believe that that's by our laws."
Image source: Shutterstock
**声明:本文为"Blockchain.News中文网"原创稿件,版权属Blockchain News所有,转载须注明
"稿件来源:https://Blockchain.News",违者将依法追究责任。



阅读更多