Crypto Twitter Explodes as Elon Musk Announces Tesla Will Stop Accepting Bitcoin Payments
Twitter has gone haywire after Tesla CEO Elon Musk's latest tweet.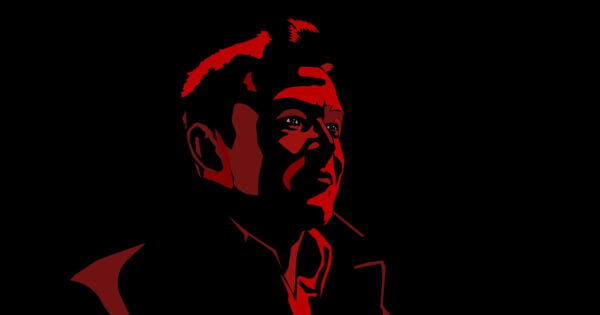 The eccentric billionaire is known for resorting to Twitter to comment on his latest views on cryptocurrencies, with his latest antic being an announcement on Twitter that Tesla will no longer be accepting Bitcoin payments.
The explanation for stopping Bitcoin payments at Tesla seems ironic since Musk has on more than one occasion touted Bitcoin. The announcement that Tesla will halt Bitcoin payment options comes at a time when Musk has also mulled over the idea of enabling Dogecoin (DOGE) payments for Tesla vehicles. Following Musk's tweet, Bitcoin also plunged and shed 12% of its value, momentarily sinking to $47K.
According to Musk, the main reason why Tesla has decided not to go forward with Bitcoin transactions is due to the fact that the cryptocurrency does not use sustainable energy. The "increasing use of fossil fuels for Bitcoin mining and transactions" has raised concerns at Tesla, said Musk. He added:
"Cryptocurrency is a good idea on many levels and we believe it has a promising future, but this cannot come at great cost to the environment."
As the news broke up via Twitter, the cryptocurrency community exploded with criticism due to the billionaire's decision. Many replied to Elon Musk's tweet. MicroStrategy CEO Michael Saylor, who figures among one of the leading institutional heads to be bullish on Bitcoin, said:
"Ironic because no incremental energy is used in a #bitcoin transaction. The energy is used to secure the crypto-asset network, and the net impact on fossil fuel consumption over time will be negative, all things considered."
Host of "The Pomp" podcast Anthony Pompliano also chimed in, tweeting:
"Elon ... you realize that 75% of miners use renewable energy, right? This energy story has been debunked over and over again."
According to Gabor Gurbacs, the director of VanEck digital asset firm, Musk is not well informed on the environmental strides Bitcoin has been making. Per research from his firm, 76% of Bitcoin miners have increasingly begun to use renewable energy.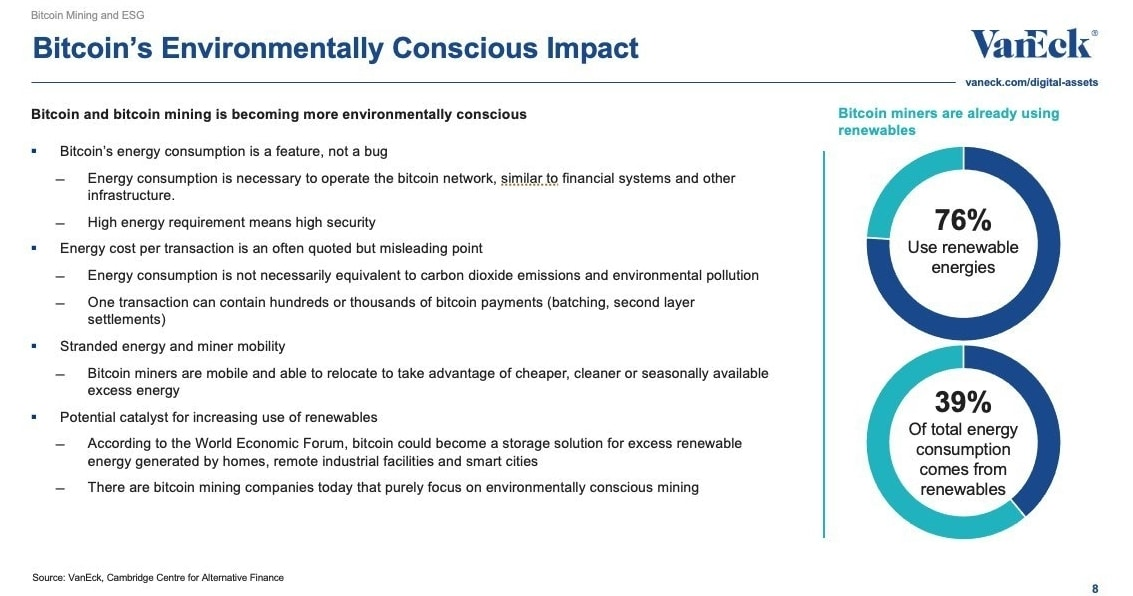 Source: VanEck via Twitter
Additionally, many are misinformed regarding the energy cost of Bitcoin transactions. Energy consumption does not necessarily translate to carbon dioxide emissions and environmental pollution, and one transaction can contain hundreds or thousands of Bitcoin payments, according to VanEck's research.
Others in the blockchain industry point to the proof-of-work consensus mechanism as being less environmentally friendly than proof-of-stake protocols, which is the underlying mechanism of blockchains like Cardano, and soon-to-be Ethereum 2.0.
Image source: Shutterstock
Bitcoin is 57,000 Times Less Environmentally Friendly Than the "Green Cryptocurrency" XRP, Says Ripple
**声明:本文为"Blockchain.News中文网"原创稿件,版权属Blockchain News所有,转载须注明
"稿件来源:https://Blockchain.News",违者将依法追究责任。



阅读更多