Carrefour Shoppers in the UAE to Get Farm-to-Shelf Information with Blockchain Technology
The shopping experience of Carrefour customers in the United Arab Emirates (UAE) is expected to be boosted as they will be in a position to track the place of origin of the products they intend to buy thanks to blockchain technology.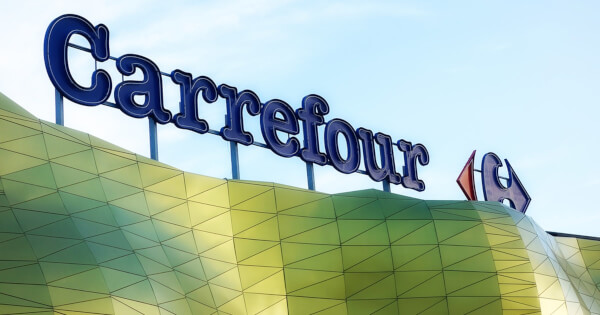 Blockchain-powered food trust solution
The collaboration between Majid Al Futtaim, the Carrefour franchisee, and IBM, is expected to boost shoppers satisfaction levels because the latter will provide a blockchain-based 'Food Trust' solution.
Carrefour shoppers will be able to trace the origin of fresh chicken or vegetables by just a simple scan using their smartphones.
According to the announcement:
"By using their smartphone to scan a QR code on products such as Carrefour's fresh chicken, customers will be able to get immediate access to actionable food supply chain data, from farm to store shelf."
Furthermore, the product's history, such as nutrition and temperature data, halal and hygiene certifications, and production process, will be included in the blockchain-based system.
Conscious consumerism
People are continuously advocating for conscious consumerism because they are attentive to detail on what they eat or drink. For instance, knowing how their food was grown and its origin, and whether it was produced ethically and sustainably.
IBM Food Trust was first launched in August 2017 by10 Foundation members to enhance the realization of this objective by using blockchain to solve challenges in the food supply chain.
Carrefour supermarkets in the UAE join Coop Italia in using IBM's blockchain technology to boost food traceability because the biggest retail chain in Italy deployed this cutting-edge technology in December 2019 to trace the origin of eggs in its supply chain.
Precisely, by leveraging blockchain technology, Coop Italia wanted to have full visibility and transparency of the different players taking part in the production chain involving nearly 2 million hens producing at least 200 million eggs annually.
Image source: Shutterstock
Tesla Has Cashed in $1 Billion from its Bitcoin Investment, says Analyst
**声明:本文为"Blockchain.News中文网"原创稿件,版权属Blockchain News所有,转载须注明
"稿件来源:https://Blockchain.News",违者将依法追究责任。



阅读更多