Bitcoin Convert Jim Cramer says Wall Street Ignoring COVID-19 Cases, Biden Election Fraud Dispute and Collapse in Stimulus Talks
CNBC's Mad Money host and Bitcoin convert Jim Cramer thinks the recent gains in the stock market defy looming risky effects of rising COVID-19 cases, the halt to US stimulus negotiations, and the destabilizing effect of President Trump denying the legitimacy of Joe Biden's election victory.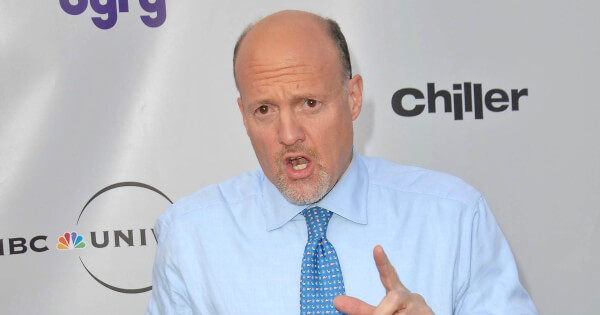 The stock market close on Wednesday on Wall Street saw a mix of trading with the Dow Jones Industrial Average slip while both the S&P 500 and Nasdaq Composite posted gains. Meanwhile Bitcoin (BTC), which has shown an increased macro decoupling from the stock market, continued to test the $16,000 resistance level recording a price high of $15,916 in the last 24 hours.
According to CNBC on Nov. 12, Jim Cramer thinks the stock market appears to be taking the looming uncertainties of the United States COVID economy and political unrest in its stride.
On the rise in US coronavirus infections, Cramer said:
"I think this market's being very cavalier about the fact that we're running at more than 130,000 new cases per day."
On CNBC's latest episode of Mad Money, Cramer warned investors that three dark clouds loom above the market—the destabilizing economic effect of Joe Biden's contested election victory, the breakdown in stimulus negotiations and the rising number of COVID-19 cases.
The legendary Wall Street analyst said that while it is not a certainty, he believes that if the above outlined situations continue to develop it could be a very dark winter for the markets. The Mad Money host announced that the "Cramer Covid-19 Index is back in play"— the index is a list put together by Cramer of 100 stocks spanning more than a dozen sectors which highlight names that investors can expect to see a return both during and beyond the coronavirus-plagued market conditions.
On Nov. 10, the United States set a new record for COVID-19 cases on the seven-day average of daily positive tests, recording over 121,000 new cases. Cramer was critical of the government's lack of initiative to close down public bars and restaurants.
Markets have been rising on the announcement of a coronavirus vaccine from Pfizer and BioNTech being 90 percent effective, but the rise in cases could still make for a brutal climate.
Cramer also commented on the dangers of the uncertainty surrounding the recent US election projected results, warning the markets could be in for a wild ride as President Donald Trump continues to challenge the legitimacy of Biden's victory. He said, "From the stock market's perspective, that's a problem."
Jim Cramer Finds Safe Haven in Bitcoin
Cramer's relationship with the top cryptocurrency Bitcoin has been quite erratic. In the past three years, he has sent mixed signals concerning Bitcoin. In June 2017, Cramer claimed that Bitcoin's price could hit $1 million. But he has also been critical, calling Bitcoin an "outlaw currency".
In September 2020, Cramer appeared on the Pomp Podcast probing host Anthony Pompliano about Bitcoin and cryptocurrency. As all market conversations have lately, the discussion soon turned to safe-haven assets and wealth storage measures to combat the current COVID-19 economic situation of the United States—which has continued to print trillion's of dollars in stimulus and coronavirus relief, actions that are expected to ultimately debase the US dollar further.
During the podcast, Cramer said that his own children won't feel comfortable inheriting gold but "will feel comfortable with crypto." Cramer admitted that maybe he was stuck in the past with some of his previous assessments and gold wealth storage leveraging. He said, "I have to start recognizing that maybe I am using a typewriter."
Cramer added that he now believes with the current economic situation, when it comes to safe havens like gold, bitcoin, and crypto, "You have to have one or the other." He added later, "We're on a collision course […] it's perfectly logical to add crypto to the menu."
On the show, Cramer also revealed he would be allocating at least 1% of his wealth storage to Bitcoin.
Image source: Shutterstock
**声明:本文为"Blockchain.News中文网"原创稿件,版权属Blockchain News所有,转载须注明
"稿件来源:https://Blockchain.News",违者将依法追究责任。



阅读更多