US Treasury Secretary Janet Yellen Cites Crypto's Growing Role in Terrorism Finance
United States Treasury Secretary Janet Yellen said yesterday that she sees the "promise" of cryptocurrency but also is wary of the reality that crypto is increasingly being leveraged to finance terrorism and launder funds.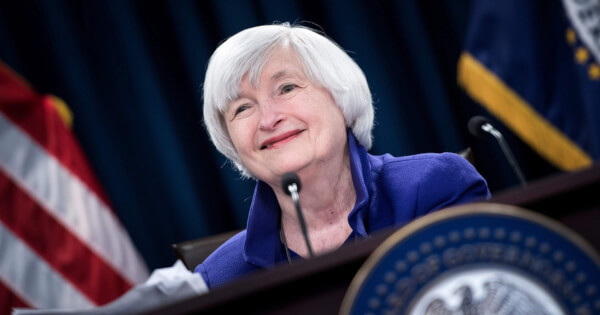 Speaking at a financial sector innovation policy roundtable on Feb.10, Yellen said in her opening remarks:
"I see the promise of these new technologies, but I also see the reality: cryptocurrencies have been used to launder the profits of online drug traffickers; they've been a tool to finance terrorism."
The former Federal Reserve Chair, Yellen has once again warned that cyberattacks and digital currency-related crimes were on the rise and maintains that while cryptocurrency has a lot of potential to revamp our financial system—crypto's illicit use cases are a "growing concern."
Yellen made reference to the Anti-Money Laundering Act passed into law by Congress last December that requires the U.S. government to update its anti-money laundering/countering the financing of terrorism (AML/CFT) laws—according to Yellen, the existing regulatory framework has not been updated much since its creation in the 1970s.
With the rise of digital assets and cyberfraud, the Treasury Secretary said:
"The update couldn't have come at a better time. As this group knows very well, we're living amidst an explosion of risk related to fraud, money laundering, terrorist financing, and data privacy."
Yellen added that the United States Treasury Department, alongside regulatory agencies under its supervision, "can better stem the flow of dark money."
Yellen added:
"And we'll be better positioned to stop adversaries from hacking our institutions or interfering in our elections."
Treasury Secretary Yellen's latest comments on the use of crypto in illicit activities like money laundering and terror finance come after her initial warning from her Senate confirmation in mid-January.
Yellen initially said that the US needs to examine how it can curtail the use of crypto for illicit financing which she explained was its main use during her Senate confirmation hearing last week, She made the comments in response to a question from Sen. Maggie Hassan (D-NH) who asked about the potential for cryptocurrency to be leveraged in financing criminal and terrorist activities.
While it appeared that Yellen was destined to be another old-world cryptocurrency opponent, a written statement published on the Senate Finance Committee website on Jan 22, indicated that the incoming Secretary of the Treasure may have a more positive view on the potential for crypto to reshape the United States financial system.
In her statement, Yellen did again state the need for the US to confront the use of illicit activities leveraging crypto, this time she added that she also plans to encourage legitimate leveraging of digital assets.
The former Fed Chair wrote:
"I think it important we consider the benefits of cryptocurrencies and other digital assets, and the potential they have to improve the efficiency of the financial system."
US Lawmakers Question Tron and DLive
Yellen's new comments also come just days after two U.S. lawmakers published an open letter to Tron founder Justin Sun and DLive CEO Charles Wayn in the wake of the Capital riots—asking them to explain how they moderate extremist and white supremacist content.
The pair of U.S. lawmakers—who are part of the House Select Committee on Intelligence—published the open letter on The Verge on Tuesday and asked Sun and Wayn to explain how they plan to prevent extremist content from being broadcast on the crypto streaming platform in the wake of last month's attempted insurrection in Washington at the confirmation of President Joe Biden.
The US representatives asked for Sun and Wayn to explain in detail how DLive, the decentralized video streaming alternative to YouTube, can protect younger users from extremist content and whether the company has any methods to identify bad actors financing extremist content.
A hearing will be held later this month by the House Financial Services Subcommittee on the financing of domestic terror following the Jan. 6. Insurrection on Capitol Hill where the discussion will likely focus on a $500,000 transaction in Bitcoin made by a French extremist and blogger to pay right-wing figures who appear to be heavily involved in the attack.
Image source: Shutterstock
US Lawmakers Question Tron Founder Justin Sun and DLive CEO on Extremist Content Following Capitol Riots
**声明:本文为"Blockchain.News中文网"原创稿件,版权属Blockchain News所有,转载须注明
"稿件来源:https://Blockchain.News",违者将依法追究责任。



阅读更多