3 Reasons Behind Bitcoin and the Crypto Market's Sudden Crash
Bitcoin whales have been shorting the market.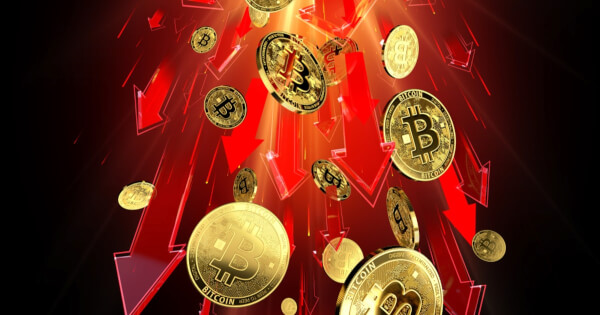 On Nov 21, crypto analyst Willy Woo indicated that "old hands have been selling into this rally since the start of November." Old hands selling is a bad sign that may mean that a price drop may be coming soon.
Bitcoin whales stir movement on the market
On Nov 22, Crypto Quant CEO Ki Young Ju indicated that "When whales are active (over 90%) on Coinbase, the $BTC price will likely be going sideways or bearish." Typically, whales can acquire Bitcoin at a much lower price. They simply cash out to guarantee enough profit when the market becomes overheated.
The 2017 Bitcoin surge followed by its crash may be related to Bitcoin whale manipulations. According to University of Texas professor John Griffin and Ohio State University's Amin Shams, the Bitcoin bull run in 2017 may be driven by Bitfinex. They said through an academic paper:
"This one large player or entity either exhibited clairvoyant market timing or exerted an extremely large price impact on Bitcoin that is not observed in aggregate flows from other smaller traders."
Although there are more and more investors interested in Bitcoin (BTC) and other cryptos, the current price action of BTC seems to be primarily driven by institutional and big players. This year, Grayscale and its Bitcoin trust have been really eye-catching, as it has secured the largest Bitcoin amount seen by any institutional investor up to now. MicroStrategy and Square's big Bitcoin buy-ins are also influential pulses that have driven Bitcoin's price up as well.
Bitcoin economy fits billionaire investor George Soros' quote perfectly. The philanthropist stated:
"Economic history is a never-ending series of episodes based on falsehoods and lies, not truths. It represents the path to big money. The object is to recognize the trend whose premise is false, ride that trend, and step off before it is discredited."
Possible crypto regulation time bomb
There may be a series of crypto regulations upcoming in the US. Coinbase CEO Brian Armstrong has allegedly heard rumors that the Trump Administration may soon issue a huge and strict crypto wallet regulation on United States traders with privacy-invading data collection requirements.
On Oct 8, the U.S. Department of Justice published a "Cryptocurrency Enforcement Framework" that put cryptocurrency under strict regulations, similar to policies revolving around fiat money.
Google Trends indicate Bitcoin is booming
On Nov 25, CNBC's Brian Kelly warned of a Bitcoin short-term correction that could see its price plummet to $12,000.
An explanation may be that altcoins rose much more than Bitcoin in price, which could serve to attract more funds into altcoin speculations. Whenever Bitcoin crashes, altcoins get pulled down as well.
Another reason is that searches for "buy bitcoin" on Google Trends have exploded to new highs, which means rising demand from retail investors. But this may not be a good sign. As Kelly said:
"Whenever you get that big of an address growth implied, that is a caution sign."
Image source: Shutterstock
**声明:本文为"Blockchain.News中文网"原创稿件,版权属Blockchain News所有,转载须注明
"稿件来源:https://Blockchain.News",违者将依法追究责任。



阅读更多